SEVENTEENTH ANNUAL SINKANKAS SYMPOSIUM
– AGATE and CHALCEDONY (VIRTUAL)
Named for one of the most distinguished and influential figures in gemology and mineralogy, the Sinkankas Symposium is an annual event featuring presentations by noted specialists working in diverse gem-related disciplines.
The theme of the 17th Annual Sinkankas Symposium is Agate and Chalcedony and will be in a virtual format this year. The virtual experience will feature a menu of eight pre-recorded 30 to 40-minute exclusive presentations available to view on-demand from Saturday, April 24, 2021 until Monday, June 7, 2021 on the Sinkankas Eventbrite page. You will be required to register in order to have access to these presentations.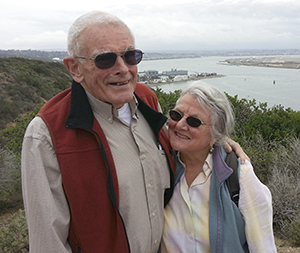 Si and Ann Frazier, in El Cerrito, California. Photo: Jim Parrish.
The Sinkankas Symposium has been described as the most important gemological conference in North America by respected authorities on gemstones. Organized by Roger Merk for 13 years (2003–2015), the annual event is co-sponsored by the Gemological Society of San Diego (GSSD) and the Gemological Institute of America (GIA). Bill Larson has been a generous supporter and speaker at the event since its inception.
This year's symposium is in honor of Si Frazier and Ann Frazier who have dedicated their lives to the study of the science, history, and beauty of agate and chalcedony. Si was a popular speaker at the Sinkankas Symposium and author of past Sinkankas Symposia articles.
SEVENTEENTH ANNUAL SINKANKAS SYMPOSIUM
– FORMAT, REGISTRATION & TIMELINE
Eight 30 to 40-minute pre-recorded presentations will be available to browse on demand
at the Sinkankas Symposium EventBrite web page.
REGISTRATION: Open Now, online only. 2021-sinkankas-symposium.eventbrite.com
COST: Free. Registration required.
PROCEEDINGS: A free PDF version of the 2021 proceedings will be made available on June 1, 2021 at sinkankas.dpidirect.com. Printed proceedings may be pre-ordered at a special rate from April 16 to June 1, 2021. Six back issues dating to the Eleventh Sinkankas Symposium (Ruby) will be available for purchase in addition to the 2021 proceedings. Order direct from the print house at: sinkankas.dpidirect.com. This is the only print run of 2021.
EVENT TIMELINE:
Registration for the Seventeenth Annual Sinkankas Symposium (Virtual) is open Now through June 6, 5PM PDT (GMT-7).
April 16, 2021, 5 PM PDT – Printed Symposium Proceedings may be pre-ordered at: sinkankas.dpidirect.com; back issues for past symposia – Eleventh through Sixteenth – may also be pre-ordered for a limited time at a special rate @ USD 35.00 plus tax and shipping.
April 24, 2021, 9AM PDT – Start of the Seventeenth Annual Sinkankas Symposium (Virtual). Pre-recorded presentations are available to registrants for viewing on demand.
April 24 – May 8, 2021 – Submit questions for the Speakers to: events@gia.edu. Be sure to include in the subject line: Question for [speaker name or moderator].
May 15, 2021 – Q&A video, hosted by Robert Weldon: A compendium of speaker responses to selected attendee questions submitted through May 8th.
June 1, 2021, noon PDT – Last day to pre-order printed symposia proceedings.
June 1, 2021, noon PDT – A free downloadable PDF of the proceedings of the Seventeenth Annual Sinkankas Symposium will be available for download at: sinkankas.dpidirect.com. Copyright permissions apply, no reproduction or cross-posting online, in whole or in part, is permitted, except by explicit written permission of the authors/contributors.
June 6, 5PM PDT – Last day to register to view on-demand speaker presentations.
June 7, 2021, 3PM PDT – Close of the Seventeenth Annual Sinkankas Symposium.
June 15, 2021 – Orders for printed symposia proceedings ship. Please allow up to 21 days for delivery, depending upon destination.
SEVENTEENTH ANNUAL SINKANKAS SYMPOSIUM PROGRAM
– SPEAKERS & TOPICS*
Recognized specialists in fields ranging from geology and mineralogy to history, treatment, cutting and collecting will present on Agate and Chalcedony:
Tim Adams
Fabergé's Work with Agate and Chalcedony
Patrick Dreher
Dreher Carvings of Agates and Chalcedony
Dr. Peter Heaney
The Complex Mineralogy of Agates
William Larson
Collecting Crypto-crystalline Quartzes: A Conversation with Bill
Dr. Ciğdem Lüle
Chalcedonies of Anatolia: From Neolithic to Modern Day
Nathan Renfro
The Micro-World of Agate and Chalcedony
Dr. George R. Rossman
Cause of Color in Agate and Chalcedony
Robert Weldon
Challenges of Photographing Agates
* Presentations are subject to change without notice.
Wilhelm Lindemann, Will Larson and Ekkehard Schneider
Dreher Carvings: Five Generations of Gemstone Animals from Idar-Oberstein
(2018)

Selected masterpieces of lapidary carving by world-renowned gem carvers Peter and Gerd Dreher.

English. Hardcover with dust jacket, 240 pages, size: 22 x 29 cm, 200 color ills. Arnoldsche.

Peter Heaney, Gloria Staebler with Bill Besse, Ann Frazier, Patricia Gray, eds.
Agate – Banded Beauty
Mineral Monograph No. 21
(2020)

Contributions by: Peter Heaney, Si and Ann Frazier, Patricia Gray, Michael Gray, Alfredo Petrov, George Rossman, John Koivula and Tarun Adlakhaeds. Illustrations by: Robert Weldon, Jeff Scovil.

Perfect binding, 140 pages, size: A4. Lithographie.

Johann Zenz
Agates
(2014)

This book is an updated, limited edition of the first of three volumes on Agate by Johann Zenz.

English. Hardcover, 656 pages, size: 24x28 cm, 2,000 ills. Limited edition. Bode.

Dietrich Mayer
Exquisite Agates
(2017)

This book features 900 favorite specimens from the collection of Dietrich Mayer.

English and German. Hardcover, 424 pages, size: 24x28 cm. Limited edition. Bode.

There is a wide selection of Agate and Chalcedony resources available in the GIA Library