Named for one of the most distinguished and influential figures in gemology and mineralogy, the Sinkankas Symposium is an annual one-day event featuring presentations by noted specialists working in diverse gem-related disciplines. The Fifteenth Annual Sinkankas Symposium commemorates the 50th anniversary of the discovery of Tanzanite and Tsavorite, two of the most beautiful, storied gemstones from East Africa.
The Sinkankas Symposium has been described as the most important gemological conference in North America by respected authorities on gemstones. Founded and organized by Roger Merk for 13 years (2003–2015), the annual event for 2018 is co-sponsored by the Gemological Society of San Diego and GIA (Gemological Institute of America), which has provided the Symposium venue every year. Bill Larson has been a generous supporter and speaker at the event since its inception.
FIFTEENTH ANNUAL SINKANKAS SYMPOSIUM – TANZANITE & TSAVORITE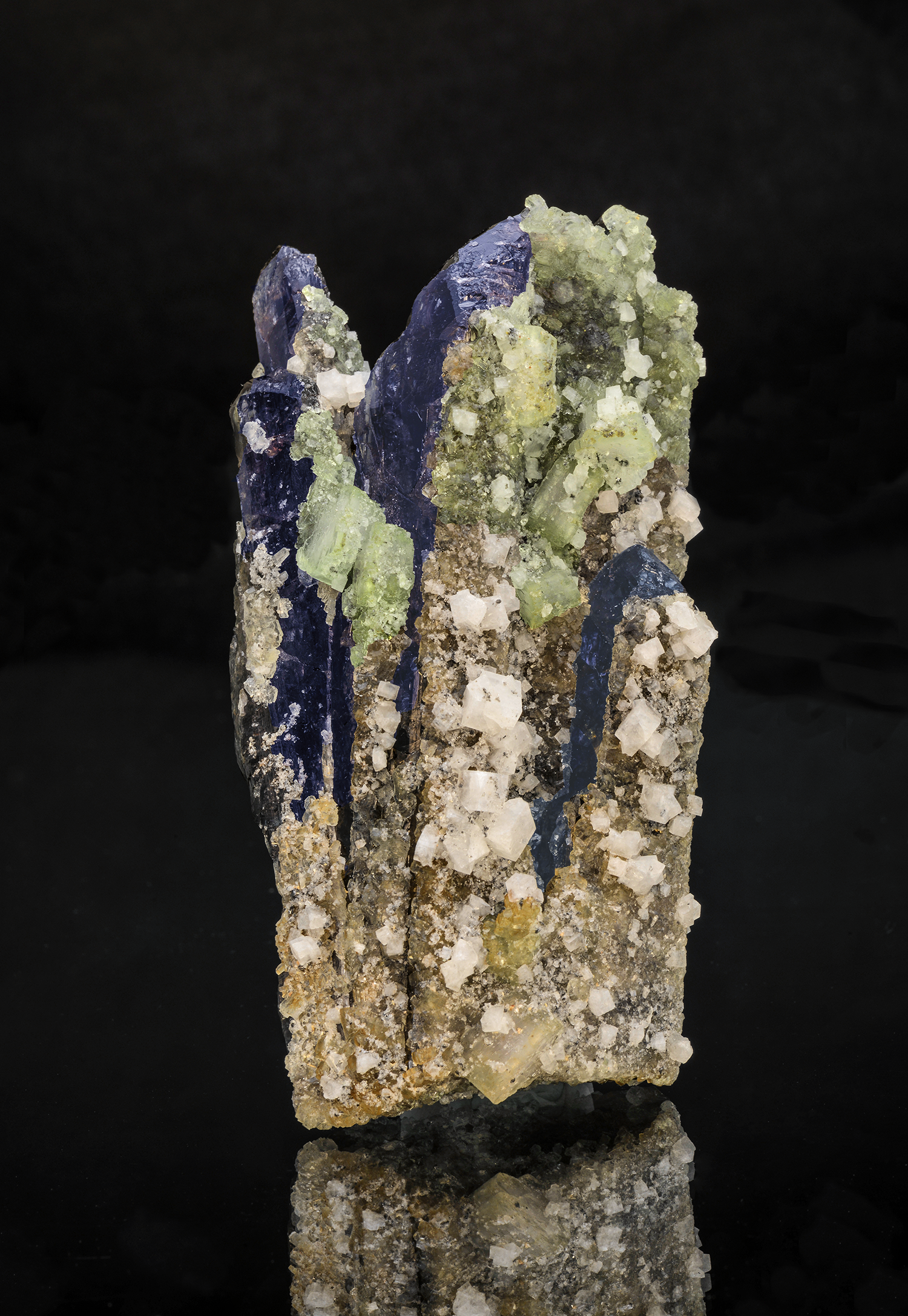 Tanzanite crystal cluster covered in prehnite and calcite. Courtesy of Pala International. Photo: Mia. Dixon.
DATE and VENUE
Saturday, April 14, 2018
GIA (Gemological Institute of America)
World Headquarters and The Robert Mouawad Campus
5345 Armada Drive
Carlsbad, CA 92008
PROGRAM *
Dr. Raquel Alonso-Perez, keynote speaker – The Mozambique Belt –
abstract »
Meg Berry – Creating a World-Class Tanzanite Collection: From Sourcing to Suite-ing –
abstract »
Bruce and Judith Bridges, keynote speakers – 50 Years of Tsavorite and Tanzanite –
abstract »
Robert Gessner – Tanzanite: Geology and Gemology –
abstract »
Bill and Will Larson – Collecting Tanzanite and Tsavorite Crystals –
abstract »
Shane F. McClure – Treatments of Tanzanite and Tsavorite –
abstract »
Nathan Renfro – The Microworld of Tanzanite and Tsavorite –
abstract »
Stuart Robertson – Tanzanite Price Trends – Past, Present and Future –
abstract »
Dr. George Rossman – Additional Remarks on Tanzanite and Tsavorite –
abstract »
* Program subject to change without notice
SPEAKERS
Recognized specialists in fields ranging from geology and mineralogy to history, treatment, cutting, collecting and selling will make presentations on Tanzanite & Tsavorite.
Dr. Raquel Alonso-Perez, keynote speaker –
bio »
Meg Berry –
bio »
Bruce and Judith Bridges, keynote speakers – 50 Years of Tsavorite and Tanzanite –
bio »
Robert Gessner – Tanzanite: Geology and Gemology –
bio »
Bill Larson –
bio »
Will Larson –
bio »
Shane F. McClure –
bio »
Nathan Renfro –
bio »
Stuart Robertson
Dr. George Rossman –
bio »
© 2009– 2023 Lisbet Thoresen. All Rights Reserved. Editor and Designer: L. Thoresen