EIGHTEENTH ANNUAL SINKANKAS SYMPOSIUM
ALEXANDRITE and OTHER COLOR-CHANGE GEMSTONES
Stuart Overlin, editor
Photographs by Mia Dixon, Orasa Weldon and Robert Weldon
Specifications: 8.25" x 10.75", digital press, soft cover, perfect binding, 110 pages, full color throughout
Publication Date: June 23, 2022
ISBN: 978-0-9915320-6-3
Symposium volumes for 2021 and 2022 are available as free PDF downloads at: sinkankas.dpidirect.com or independent.academia.edu/SinkankasSymposium
Table of Contents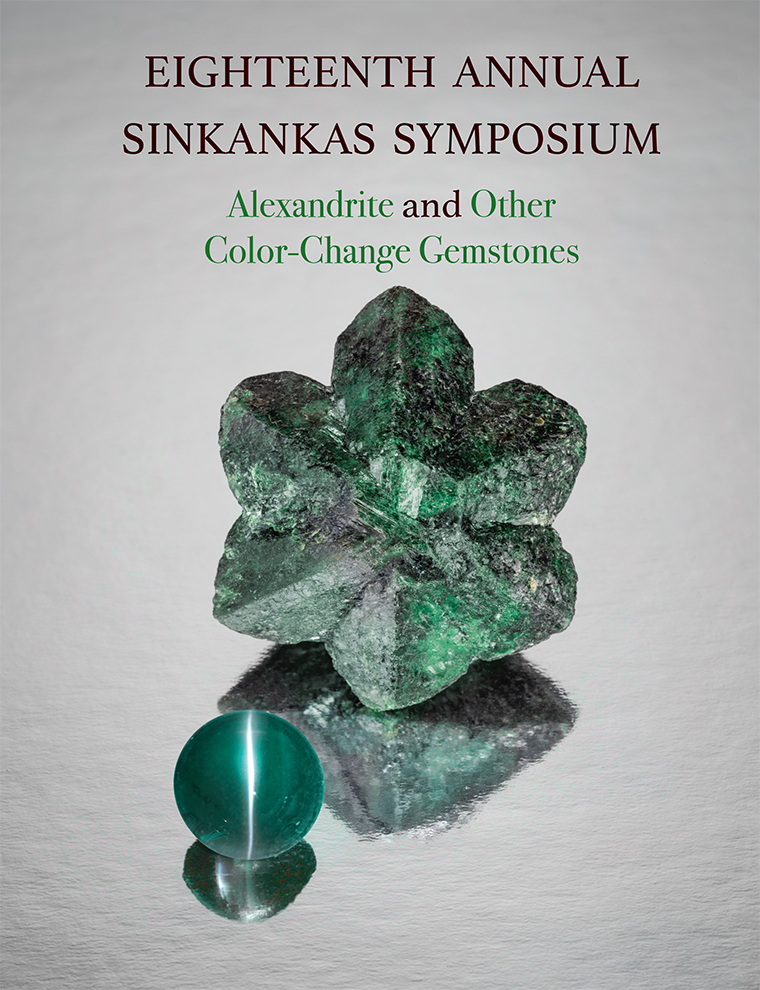 Dedication and Acknowledgments i
Contents 1
Speaker and Author Biographies 2
Evan Caplan 6
Alexandrite, Pricing Factors, and the Future Market
William Larson 10
Collecting Color-Change Minerals and Gemstones from World Localities
Çiğdem Lüle 14
Diaspore from Turkey
Sally Eaton-Magaña 18
Color-Change Phenomena in Diamond
Niveet Nagpal 28
Designing with Color-Change Gemstones
Aaron Palke and George R. Rossman 32
Causes of Color in Color-Change Gemstones
Nathan Renfro 40
The Microworld of Alexandrite and Other Color-Change Gems
Stuart Robertson 42
Price Trends of Alexandrite and Other Color-Change Gemstones
Wim Vertriest 48
Overview of the Geology and Mining of Alexandrite
Robert Weldon 52
Gem Photography's Biggest Challenge: Color-Change Gemstones
Ziyin Sun, Aaron C. Palke, Jonathan Muyal, Dino DeGhionno, and Shane F. McClure 60
Geographic Origin Determination of Alexandrite (from the Winter 2019 Gems & Gemology)
Karl Schmetzer 76
Pleochroism and Color Change in Faceted Alexandrite: Influence of Cut and Sample Orientation
(from the Spring 2019 Gems & Gemology)
James E. Shigley and Sheryl Elen 88
Bibliography
ABOUT THE EIGHTEENTH ANNUAL SINKANKAS SYMPOSIUM
– Alexandrite and Other Color-Change Gemstones (VIRTUAL)
Named for one of the most distinguished and influential figures in gemology and mineralogy, the Sinkankas Symposium is an annual event featuring presentations by noted specialists working in diverse gem-related disciplines.
The theme of the Eighteenth Annual Sinkankas Symposium is Alexandrite and Other Color-Change Gemstones. The virtual format of the 2022 symposium featured a menu of 10 pre-recorded 30-minute exclusive presentations available to view on-demand from Monday, April 25, 2022 until Monday, June 13, 2022.
The Sinkankas Symposium has been described as the most important gemological conference in North America by respected authorities on gemstones. Organized by Roger Merk for 13 years (2003–2015), this year's event is co-sponsored by the Gemological Institute of America (GIA), the Geo-Literary Society and the Gemological Society of San Diego. Bill Larson has been a generous supporter and speaker at the event since its inception.
EIGHTEENTH ANNUAL SINKANKAS SYMPOSIUM
– FORMAT, REGISTRATION & TIMELINE
Ten 30-minute pre-recorded presentations available for browsing on demand
at the Sinkankas Symposium EventBrite web page (now closed).
REGISTRATION: Closed.
SYMPOSIUM VOLUME: A free PDF version of the Symposium volume is available for download at: sinkankas.dpidirect.com. Ordering of printed volumes (2014–2022) ended June 13, 2022. (June 2022 was the only printing scheduled for 2022.)
EVENT TIMELINE:
Registration for the Eighteenth Annual Sinkankas Symposium (Virtual) open March 14 through June 5, 5PM PDT (GMT-7).
April 5, 2022, 5 PM PDT – Printed Symposium Volumes may be pre-ordered at: sinkankas.dpidirect.com; back issues for past symposia – Eleventh through Seventeenth – may also be pre-ordered for a limited time.
April 25, 2022, 9AM PDT – Start of the Eighteenth Annual Sinkankas Symposium (Virtual). Pre-recorded presentations are available to registrants for viewing on demand.
April 25 – May 13, 2022 – Submit questions for the Speakers to: events@gia.edu. Be sure to include in the subject line: Question for [speaker name or moderator].
May 26, 2022 – Q&A video, hosted by Robert Weldon: A compendium of speaker responses to selected attendee questions submitted through May 13th.
June 5, 2022, 5PM PDT – Last day to register to view on-demand speaker presentations.
June 13, 2022, 3PM PDT – (Deadline extended from June 6.) Close of the Eighteenth Annual Sinkankas Symposium.
June 13, 2022, noon PDT – (Deadline extended from June 6.) Last day to pre-order printed symposia volumes in 2022, available at sinkankas.dpidirect.com.
July 11, 2022, 12:00 AM PDT – A free PDF of the Eighteenth Annual Sinkankas Symposium volume is available for download at sinkankas.dpidirect.com. Copyright permissions apply, no reproduction aand no cross-posting online, in whole or in part, is permitted, except by explicit written permission of the authors/contributors.
July 12, 2022 – (Ship-by date extended from July 7.) Orders for printed symposia volumes ship. Please allow up to 21 days for delivery, depending upon destination. Questions about your order? Contact the print house directly at SinkankasSupport@dpidirect.com
EIGHTEENTH ANNUAL SINKANKAS SYMPOSIUM PROGRAM
– SPEAKERS & TOPICS*
Recognized specialists in fields ranging from geology and mineralogy to history, treatment, cutting and collecting make presentations on Alexandrite and Other Color-Change Gemstones:
Evan Caplan
Alexandrite, pricing factors and the future market
William Larson
Collecting color-change minerals and gemstones from world localities
Dr. Ciğdem Lüle
Diaspore from Turkey
Dr. Sally Eaton-Magaña
Color-change phenomena in diamonds
Niveet Nagpal
Designing with color-change gemstones
Nathan Renfro
The microworld of alexandrite and other color-change gems
Stuart Robertson
Price trends of alexandrite and other color-change gemstones
Dr. Aaron Palke and Dr. George R. Rossman
Causes of color in color-change gemstones
Wim Vertriest
Overview of the geology and mining of alexandrite
Robert Weldon
Gem photography's biggest challenge: Color-change gemstones