TWELFTH ANNUAL SINKANKAS SYMPOSIUM
– PERIDOT and UNCOMMON GREEN GEM MINERALS
Edited by Lisbet Thoresen
Photographs by Mia Dixon, Jeffrey A. Scovil, Harold and Erica Van Pelt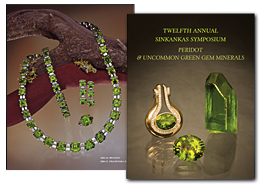 Table of Contents
Acknowledgments 2
Program 3
Program Abstracts 5
Speaker and Author Biographies 8
Papers –
Dr. William "Skip" Simmons, Mineralogy
and crystallography of olivine 12
Dr. James A. Harrell, Discovery of the Red Sea source of
Topazos (ancient gem peridot) on Zabargad Island, Egypt 16
Lisbet Thoresen and James A. Harrell, Archaeogemology of peridot 31
François Farges, The gem peridots of the Muséum national
d'Histoire naturelle, Paris: An historical overview 52
Map: Worldwide peridot localities 66
Dr. James E. Shigley, Geology of olivine and peridot localities 68
Si Frazier and Ann Frazier, Going to the source: Kashmir peridot 72
Pir Dost, Peridot from Supat, the land of mountains 80
George Harlow and Kyaw Thu, Peridot from Pyaung-gaung, Mogok Tract, Myanmar:
Similarities to Sapat and Zabargad deposits 82
Robert E. Kane, The making of a suite of peridot jewelry 96
Si Frazier and Ann Frazier, Out of this world gems 111
Dr. James E. Shigley, Selected bibliography: Olivine 120
Green with envy: Peridots and green minerals from the collection
of William F. Larson 128
Specifications: 8.25" x 10.75"; soft cover, perfect binding
147 pp., 172 color photographs, maps and illustrations.
Publication date: April 5, 2014
TWELFTH ANNUAL SINKANKAS SYMPOSIUM – SPEAKERS *
Recognized specialists in fields ranging from geology and mineralogy to history, treatment, cutting, collecting and selling will make presentations on Peridot and Uncommon Green Gem Minerals.
Dr. James A. Harrell, keynote speaker – Discovery of the Red Sea source of Topazos (ancient gem peridot) on Zabargad Island, Egypt –
abstract »
Dr. Skip Simmons – Mineralogy and crystallography of olivine –
abstract »
The olivine group is a magnesium-iron silicate with the chemical composition (Mg, Fe)2 SiO4 and occurs as a complete solid solution series between the Mg-rich end member forsterite, Mg2SiO4, and the Fe-rich end member fayalite, Fe2SiO4. Olivine is orthorhombic, with crystals of gem peridot typically forming flattened, tabular to box-shaped crystals. More commonly, olivine is found as rounded alluvial grains in beach sands weathering from basalt and as granular masses of anhedral crystals in dunite xenoliths in basalt. Structurally, it is a nesosilicate with individual SiO4 tetrahedra linked by (Mg, Fe) atoms, each with six nearest neighbors. The physical properties, chemical composition and crystal structure of olivine will be examined in this presentation.
Dr. James E. Shigley – Olivine geology –
abstract »
Dr. Raquel Alonso-Perez – How green was my Sapat Valley: Peridot of Pakistan –
abstract »
Pakistan has been known since ancient times for its gem quality crystals of aquamarine, tourmaline, topaz, garnet, ruby, and so on. However, peridot, the gem variety of olivine, was only recently discovered in the Sapat Valley of Pakistan in 1994. Nowadays, the Sapat Valley is the source of one of the most desired peridots in the jewelry business because of its large size, quantity and fine gem quality.
The Sapat Peridotite, located directly above the collision between the Indian Plate and the Kohistan Island Arc, consists of a metasomatosized ultramafic body with gem-olivine-magnetite-calcite-chlorite crosscutting veins. These veins provide a window into some of the geochemical characteristics of the mantle wedge in arc settings and therefore into the origin of gem-quality peridot formation.
Dr. George Harlow – Peridot from Pyaung-gaung, Mogok Tract, Myanmar: Similarities to Sapat and Zabargad deposits –
abstract »
Peridot is the gem variety of olivine, with grass green color, moderately-good gem properties and a long history of use. Large stones are famous from the island of Zabargad, Egypt and the Mogok Stone Tract of Myanmar. Curiosity about the origin of this gem from Myanmar and its relationship to that of Zabargad and another important occurrence at Sapat, Kohistan, Pakistan was a part of the driving force for a recent expedition by geologists at the American Museum of Natural History to visit the Mogok Tract. Preliminary results from a study of the peridot source and collected samples confirms a hypothesis that hydrous (rich in H2O) fluid was critical in the formation of large gem peridots, crystallized in fractures of mantle rock (peridotite) probably during exhumation along geologic faults present in the Mogok Tract.
Nathan Renfro – Cutting peridot and the exploration of its inclusions –
abstract »
Lapidary techniques will be explored in addition to optimization of optical performance of peridot. A variety of inclusions seen in peridot from several localities will also be shown.
Lisbet Thoresen – Chromian chalcedony: a gem from history's lost and found –
abstract »
Robert Weldon – Magnificent jewels of the Cheapside Hoard –
abstract »
Dr. James E. Shigley – Green gem materials –
abstract »
William Larson – Green with envy: Gem minerals from the collection of William F. Larson –
abstract »
A photographic odyssey of fine crystals and cut gems from worldwide localities featuring peridot and a panoply of uncommon green gems of beguiling beauty ranging from A (actinolite) to Z (zircon).
Dr. George Rossman – Causes of color in the green minerals –
abstract »
The green color of peridot arises from its iron content as do the colors of some other gems. However, many of the more desirable green gems such as emerald, demantoid, tsavorite, and chrome tourmaline owe their color to vanadium or chromium. But chromium is also resposible for the red color of both ruby and spinel. The reason for this ostensible paradox is discussed along with the causes of color in other green gem minerals.
* speakers or topics subject to change without notice
TWELFTH ANNUAL SINKANKAS SYMPOSIUM – SPEAKER BIOGRAPHIES
Dr. Raquel Alonso-Perez –
bio »
Dr. George Harlow –
bio »
Dr. James A. Harrell –
bio »
Bill Larson –
bio »
Nathan Renfro –
bio »
Dr. George Rossman –
bio »
Dr. James E. Shigley –
bio »
Dr. Skip Simmons –
bio »
Lisbet Thoresen –
bio »
Robert Weldon –
bio »
Richard W. Hughes
Ruby & Sapphire:
A Gemologist's Guide


(2017)

The most comprehensive book ever written on a single precious stone. 816 pages, 10 lbs. More than 1000 photos, maps, illustrations, with 3500+ references. Publisher: Lotus Gemology.

US $200.

Derek J. Content
Ruby, Sapphire & Spinel:
an Archaeological, Textual
and Cutural Study


(2016)

Indispensible 2-volume reference on glyptic from classical antiquity to the modern era. Part I addresses literary sources and extant corpus of glyptic to fill the cultural gap connecting East and West. Part II is the catalogue of the Babar-Content collection. 542 pages, beautiful color photographs by Gonzalo Salcedo. Publisher: Brepols.

Euro $150,00 excl. tax

Order direct from the publisher info@brepols.net