Richard W. Hughes
Ruby & Sapphire:
A Gemologist's Guide


(2017)

The most comprehensive book ever written on a single precious stone. 816 pages, 10 lbs. More than 1000 photos, maps, illustrations, with 3500+ references. Publisher: Lotus Gemology.

US $200.

Derek J. Content
Ruby, Sapphire & Spinel:
an Archaeological, Textual
and Cutural Study


(2016)

Indispensible 2-volume reference on glyptic from classical antiquity to the modern era. Part I addresses literary sources and extant corpus of glyptic to fill the cultural gap connecting East and West. Part II is the catalogue of the Babar-Content collection. 542 pages, beautiful color photographs by Gonzalo Salcedo. Publisher: Brepols.

Euro $150,00 excl. tax

Order direct from the publisher info@brepols.net
FOURTEENTH ANNUAL SINKANKAS SYMPOSIUM – SAPPHIRE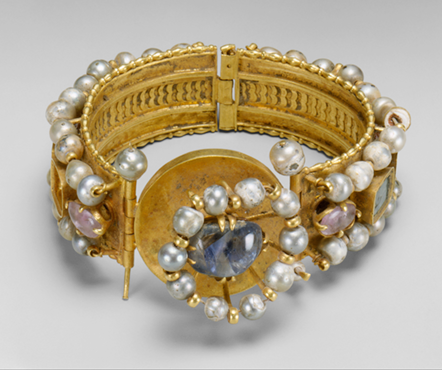 One of a pair of Byzantine gold bracelets adorned with silver ornamentation and pearls, amethyst, sapphire, glass, quartz and "emerald plasma," ca. AD 500–700; overall dimensions: 3.7 x 8.2 cm. Inv. 17.190.1670, gift of J. Pierpont Morgan, 1917, Metropolitan Museum of Art, New York.
Registration is now CLOSED. (Sold out.)
Named for one of the most distinguished and influential figures in gemology and mineralogy, the Sinkankas Symposium is an annual one-day event featuring presentations by noted specialists working in diverse gem-related disciplines. The theme of the Fourteenth Annual Sinkankas Symposium is Sapphire.
The Sinkankas Symposium has been described as the most important gemological conference in North America by respected authorities on gemstones. Organized by Roger Merk for 13 years (2003–2015), the annual event is co-sponsored by the Gemological Society of San Diego and GIA (Gemological Institute of America), which has provided the Symposium venue every year. Bill Larson has been a generous supporter and speaker at the event since its inception.
FOURTEENTH ANNUAL SINKANKAS SYMPOSIUM – DATE and VENUE
Saturday, April 8, 2017
GIA (Gemological Institute of America)
World Headquarters and The Robert Mouawad Campus
5345 Armada Drive
Carlsbad, CA 92008
FOURTEENTH ANNUAL SINKANKAS SYMPOSIUM – REGISTRATION
Interest in the Sinkankas Symposium and attendance has grown every year. Space is limited and is available on a first-come, first-served basis. Registration is now open through April 2 or until tickets are sold out. Registration for the one-day event includes refreshments, lunch and a copy of the 2017 Sinkankas Symposium volume, which features selected papers on Sapphire.
Registration: CLOSED (event sold-out)
Each registrant must appear on the GIA parking list under his/her own name (no group registration under one name). Bring valid government ID with picture. You must be on the parking reservation list to access the event.
FOURTEENTH ANNUAL SINKANKAS SYMPOSIUM – SPEAKERS *
Recognized specialists in fields ranging from geology and mineralogy to history, treatment, cutting, collecting and selling will make presentations on Sapphire.
Edward Boehm – Sapphire Origin Determination: Past and Present –
bio »
Dr. John Emmett – All the Colors of Corundum –
bio »
Dr. George Harlow – Syenite-Hosted Sapphires – What's Going On –
bio »
Alan Hart – Sapphires in the Crown Jewels –
bio »
Richard Hughes – Sapphire Around the World –
bio »
Carl Larson – A Collector's Perspective: Sapphire Crystals from Worldwide Localities –
bio »
Glenn Lehrer – The Art and Science of Faceting and Carving Sapphire –
bio »
Shane McClure – Sapphire Treatments and Their Detection –
bio »
Nathan Renfro – The Microworld of Sapphires –
bio »
Dr. George Rossman – Added Attractions on Color in Corundum –
bio »
Dr. William "Skip" Simmons – Mineralogy and Crystallography of Sapphire –
bio »
Lisbet Thoresen – Archaeogemology of Sapphire –
bio »
* Speakers subject to change