Eleventh Annual Sinkankas Symposium – Ruby (Revised Edition)
Edited by Lisbet Thoresen
Photographs by Harold and Erica Van Pelt
Mia Dixon, E. Billie Hughes, Richard W. Hughes and Jeffrey Scovil
Table of Contents
Acknowledgments 3
Speaker and Author Biographies 4
Program Abstracts 9
Papers –
Dr. James E. Shigley, Ruby geology and localities 12
Map: Worldwide Ruby Localities 16
Shane McClure, Ruby Treatments 18
W. G. Fitz-Gerald, City built on rubies 24
Richard Hughes, Pigeon's blood:
A pilgrimage to Mogok – Valley of rubies 32
Elise A. Skalwold, Dr. Allen M. Bassett and the Ruby Mines of Nepal:
A historical overview 42
Gary W. Bowersox, The rubies of Afghanistan and Tajikistan: An update 49
Dr. James E. Shigley, Selected bibliography: Ruby 66
Richard Hughes, A collector's guide to the literature on rubies and sapphires 72
Lisbet Thoresen, Gamini Ratnavira and Eberhard Equit:
Extending the legacy of the art and science of mineral illustration 104
Robert Weldon, The Conundrum, a poem 111
Rubies from the Collection of William F. Larson 112
Specifications: 8.25" x 10.75"; soft cover, perfect binding
127 pp., 205 color photographs, maps and illustrations.
Publication date: February 7, 2014
ELEVENTH ANNUAL SINKANKAS SYMPOSIUM – AUTHOR ABSTRACTS
Dr. James Shigley –
abstract »
Map: Worldwide ruby localities –
abstract »
Shane McClure – Enhancements to Rubies – both Natural and Synthetic –
abstract »
W. G. Fitz-Gerald – City built on rubies –
abstract »
Richard W. Hughes – Pigeon's blood: A pilgrimage to Mogok – Valley of rubies –
abstract »
Elise A. Skalwold – Dr. Allen M. Bassett and the Ruby Mines of Nepal: A historical overview –
abstract »
Gary W. Bowersox – Rubies of Afghanistan and Tajikistan: An update –
abstract »
Selected bibliography: Ruby, compiled by Dr. James Shigley –
abstract »
Richard W. Hughes – A collector's guide to the literature on rubies and sapphires –
abstract »
Lisbet Thoresen – Gamini Ratnavira and Eberhard Equit:
Extending the legacy of the art and science of mineral illustration –
abstract »
Robert Weldon – The Conundrum, a poem
Rubies from the Collection of William F. Larson
ELEVENTH ANNUAL SINKANKAS SYMPOSIUM – RUBY
April 6, 2013, Carlsbad, CA
Photographs courtesy of Pala International
and Gary Bowersox, Mia Dixon, Richard Hughes,
Jeff Scovil and Robert Weldon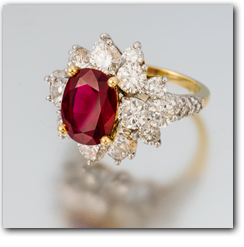 Thai ruby surrounded by diamonds in a gold ring setting. Photo: Mia Dixon, courtesy of Pala International.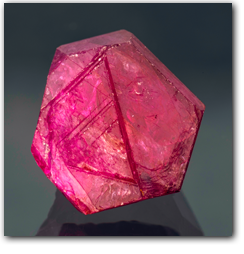 A perfect hexagonal ruby crystal from Mozambique. Photo: Mia Dixon, courtesy of Pala International.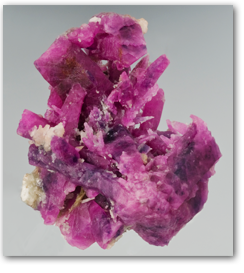 A thicket of rubies (6 x 5 x 3 cm) from the Ganesh Himal Deposit, Somdang, Nepal. Photo: Mia Dixon, courtesy of Pala International.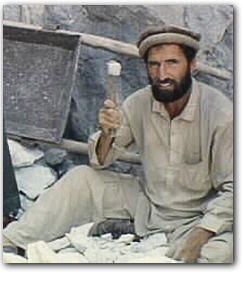 A miner breaks marble with a hammer to locate ruby and sapphire crystals, Jegdalek, Afghanistan. Photo: Gary Bowersox, courtesy of www.gems-afghan.com.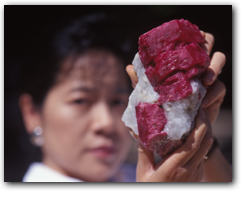 Wimon Manorotkul holds a massive ruby crystal on matrix found in Mogok. Photo: Richard Hughes (www.ruby-sapphire.com), courtesy of Pala International.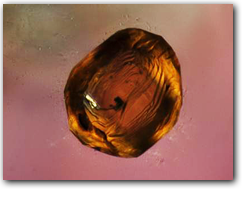 A ruby is host to a sphalerite guest inclusion, mag. 200x. Photo: Nathan Renfro.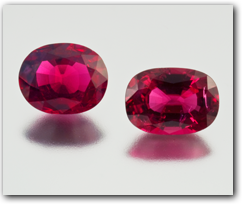 A pair of faceted natural ruby crystals (2.18 and 2.20cts., respectively). Photo: Mia Dixon.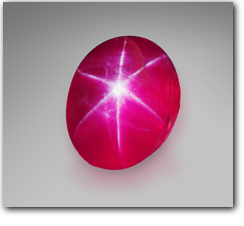 A natural Burmese ruby cabochon with a perfect six-rayed star. Heat treatment is often applied to Burmese rubies in order to elicit the asterism, which is caused by exsolution of silky rutile in the gem host. Photo: Mia Dixon, courtesy of Pala International.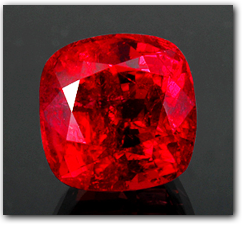 A faceted Burmese ruby (12.20 cts.) exhibits exquisitely vibrant color for which the locality is renowned. Photo: Jeff Scovil, courtesy of Pala International.
A bright spring sky and serene swath of gleaming azure blue sea greeted more than 150 attendees to the Eleventh Annual Sinkankas Symposium, which convened on Saturday, April 6th at GIA's world headquarters overlooking the Pacific Ocean in Carlsbad, California. The gem theme for 2013 was Ruby, and this year's event was again co-sponsored by SDMG and GIA, with Anne Schafer and Carol Moffat coordinating registration and logistics. Their efforts ensured that the day's proceedings unfolded seamlessly. Attendees had the opportunity to view GIA's museum exhibit in the main rotunda, which was curated by Terri Ottaway, and also the special exhibit in the S. Tasaki Student Lecture and Graduation Hall, which featured superb ruby specimens from localities throughout the world courtesy of Bill Larson, President of Pala International and long-time booster of the Sinkankas Symposium.
GIA staff and Si and Ann Frazier, among others, offered event participants the chance to browse a great selection of gem and mineral publications at their book tables. Morning and afternoon breaks and midday lunch afforded presenters and attendees the opportunity to mingle and reflect on the day's topics—some meeting for the first time, others rekindling acquaintances. Enthusiasm for the event was attested by several participants traveling great distances, with speakers Elise Skalwold and George Harlow flying in from New York, Gary Bowersox coming from Dubai, Richard Hughes coming from Hong Kong. Attendees Brent Lawson travelled all the way from New Zealand and Richard Drucker flew in for the day from Chicago.
"asking to see the pigeon's blood is like asking to see the face of God"
Sinkankas Symposium organizer Roger Merk assembled an impressive roster of speakers, with Dr. George Harlow, Curator of minerals and gems at the American Museum of Natural History, New York, launching the proceedings with "The Mineralogy and Geochemistry of Ruby from the Mogok Belt in Burma." His presentation previewed a forthcoming article, "A study of ruby (corundum) compositions from the Mogok belt, Myanmar: Searching for chemical fingerprints," which is co-authored with Will Bender and will appear in the June 2013 issue of American Mineralogist. Dr. Harlow discussed the unique signatures of Burmese rubies' chemical compositions, crystal habit, spectral characteristics, inclusions, growth structure, color and appearance. Occurring in metasomatic, marble-hosted (vs. metamorphic) and igneous environments, the crystal forms most characteristic of Burmese rubies are hexagonal, flat hexagonal and rhombohedral. In some localities, notably Wet Loo and Namya, rubies were found in skarns, and painite was among the associated minerals identified. Dr. Harlow reported that elemental pairs of interest in analyses performed to date included Fe and Si and also Fe and Cr. In ternary diagrams, rubies from Afghanistan and Burma were clearly segregated, which suggests, at least preliminarily, that the prospects are encouraging for analytical provenancing of rubies from otherwise ostensibly similar environments. He concluded his presentation with an exhortation that gemological journals should endeavor to publish full data, not only summaries of the chemical compositions of suites of samples in order to enable researchers to use and contribute to an ever-increasing library of analytical data.
Dr. James Shigley, Distinguished Research Fellow at GIA, presented an overview of the geology of worldwide ruby localities, with special attention to newer sources. His contribution to the printed proceedings includes an extensive bibliography on the subject of rubies, especially books and articles published during the past decade. Bill Larson complemented Dr. Shigley's presentation with "Ruby Localities Shown in Brilliant Color," a pictorial tour of rubies from localities across the globe, ranging from the storied pigeon's blood red rubies of Burma to ruby and zoisite from Tanzania, a favorite carving material with lapidaries, to collector specimens from obscure localities such as Greenland, Brazil and New Jersey (who knew?). Credits go to photographers Jeff Scovil, Robert Weldon and Pala's Orassa Weldon, Mia Dixon and Jason Stephenson for producing the stunning pictorial atlas of images.
"dreams may spring from gems more humble"
First-time Sinkankas Symposium presenter, gemologist, author and independent researcher Elise Skalwold of Cornell University gave a preview of her forthcoming publication on the remarkable career of geologist Dr. Allen M. Bassett. The story Ms. Skalwold related was part mystery – sparked by her interest in a peculiar ruby-in-matrix specimen housed in the University's Heasley Mineralogical Museum – part travelogue, part adventure and part memoir. The story unfolded chronicling Dr. Bassett's nearly three decades in Nepal spent studying the geology and endeavoring to develop the impoverished country's gem mineral industry. Historical photographs from the period along with modern portraits of crystal specimens, fashioned stones and photomicrographes illustrated the unique features of material from the Chumar and Ruyil ruby mines (elevation 11,000–13,000').
Filling out the geological and gemological background on ruby from Nepal, Ms. Skalwold related personal accounts and cited several significant contemporary and past papers, most notably: "Rubies and fancy-color sapphires from Nepal," Gems & Gemology (1997), by C.P. Smith, E.J. Gübelin, A.M. Bassett, and M.N. Manandhar, and "Hunting for gemstones in the Himalayas of Nepal," Lapidary Journal (Oct 1979), by A.M. Bassett. While the presentation began with a homage to Dick Hughes' oft-quoted Bible passage: "The price of wisdom is beyond rubies" (Job 28:18), Skalwold concluded by saying "dreams may spring from gems more humble" – meaning material less coveted than fine Burmese ruby may serve as inspiration for a lifetime of science and adventure.
Gary Bowersox, also a first-time speaker at the Sinkankas Symposium, gave an overview of "The Rubies of Afghanistan and Tajikistan," which was based on 42 years of leading expeditions in search of the gem minerals of South Asia. The self-described gem hunter and independent consultant has advised governmental agencies and private companies on industrial development of mineral resources in the region. In 2009, he and his team surveyed all the known ruby mines in Afghanistan. More recently, he produced a report recommending a plan for formally patriating mining claims to local artisanal miners who have been working deposits in the Panshjer Valley for decades and welcoming extramural mining operations to the region in order to develop its gem and mineral resources commercially. In 2012, the gem industry in Afghanistan netted $100 million, so the prospects for contributing meaningfully to the country's GNP holds promise; however, political and security issues remain prersistent problems without apparent resolution likely in the near term. Bowersox noted that lack of governmental oversight enables another problem to continue, which is exploitation by Pakistanis who frequently cross the border into Afghanistan, plunder its gem resources, then return home and sell specimens as indigenous gem minerals of Pakistan.
"the price of wisdom is beyond rubies" — Job 28:18
Keynote speaker and well-known authority on ruby and sapphire, Richard Hughes spoke about "Pigeon's Blood: Burma's Mogok Ruby Mines," completing the narrative arc about this classic gem-producing region which began with George Harlow's discussion earlier in the day. Hughes described both the mythologized and actual historical origins of the discovery of rubies in Burma and the term "pigeon's blood red," which derives not from the color of the bird's blood, but from the bright red ring in the iris of its eyes.
The mines were operated for centuries under strict oversight by monarchs, hegemons and kleptocrats to whom the very best crystals were remanded obligatorily (under pain of pain). By the 19th century, fearing that the French would usurp their perceived colonial prerogatives, Britain contrived a pretext to extend its footprint from Lower Burma into Upper Burma. Within months of mounting a successful military campaign, Britain swept aside the monarchy and assumed control over the mining operations in the Mogok Stone Tract. It proved to be a fruitless enterprise that the Europeans were completely ineffectual at administering. In relating the history and lore of Burma's rubies, Hughes talked about their enduring romance and desireability in emotive and very human terms, segueing into a thoughtful reflection on the recent trend in the gem industry to displace the transactional experience of acquiring gemstones—at its core an appeal to sensibility and passion—with scientific eloquence rich in datapoints and facts, but utterly bereft of emotional connection or capacity to engage the senses or the imagination. For the printed proceedings, Hughes prepared an exhaustive bibliography of useful references on ruby.
GIA's Nathan Renfro, Lead Analytical Specialist of colored stones at GIA, made an entertaining presentation on "Faceting Ruby: The Implications for Optical Orientation on Color." Given the rarity and high value of rubies, he demonstrated step-by-step the process of optimizing the angles used with the computer-aided design program Gemcad. The program also was used to calculate the average path-length of light travelling through the stone. He then showed how the color can be predicted utilizing transmission spectra, if the path-length and chromophore density are known. This approach was used to determine the difference in color of a ruby with the optic axis oriented through the girdle in one stone and with the optic axis oriented table to culet in another. Renfro then showed the step-by-step process of cutting and polishing ruby using standard lapidary techniques. He also devoted time to a discussion about ruby inclusions, which impart to the finest stones their most desirable qualities, whether it is silky rutile that produces asterism or imparts a velvety quality to its body color. He also showed unusual and rare inclusions seldom observed in ruby such as lazurite, spinel, and pargasite.
Robert Weldon, Manager of Photography and Laboratory Publications at GIA and unofficial poet laureate of the Sinkankas Symposium spoke on "A Photographic Quest for Pigeon's Blood Red." He began his presentation with a mellifluous poem and then ventured into a pictorial odyssey of rubies captured through his camera lens. He described the latest photographic equipment and digital darkroom wizardry that enables a proficient Photoshop user to salvage an image that may not have been captured in the camera's eye originally.
Shane McClure, Director of West Coast Identification Services at the GIA Laboratory in Carlsbad made the last presentation of the day on "Enhancements to Rubies – both Natural and Synthetic." He described traditional enhancement techniques such as heat treatment applied to elicit asterism, and he presented an overview of trends in treatments and production of synthetics since the 1970s, noting the progressive evolution that characterizes the invention of new tricks and techniques in order to evade detection, inevitably being caught out, prompting the chase to begin anew.&nbsp The processes by which the art of subterfuge leaps ahead and detection techniques catch up with the deception is an exercise in the "Red Queen Effect," or running as fast as one can simply to stay in the same place. The current state of artifice is remarkably low-tech and a bit of déjà vu all over again, with glass filling making a popular comeback. Jewelers are reporting extremely disconcerting and costly experiences of unwittingly pickling a gem that a customer brings to them for as little as one to three minutes, only to find a horribly crizzled specimen that could hardly be termed a gem prior to the glass-filling treatment. Some specimens are so fractured and friable that they are more lead-glass than mineral, with pickling reducing them to piles of fragments and powder.
Customarily, Dr. George Rossman closes the Sinkankas Symposium with a presentation about the cause of color in gemstones and this year he was slated to speak about "Why Rubies Are Red" but sudden illness prevented him from attending this year. (We are pleased to report that he has recovered fully.) Roger Merk presented a last-minute three-slide coda on behalf of Dr. Rossman, which was emailed in time for the closing remarks. Slide 1 – "Question: What makes rubies red? Answer: Chromium. The End." (Laughter from the audience.) But wait… Slide 2 – photo montage of emeralds, chrome tourmaline, chrome diopside and other green-colored stones with the caption, "If chromium makes all of these gems green, why aren't rubies green, too?" and Slide 3 – "You'll have to attend Professor Rossman's presentation to learn the reason. Stay tuned."
Roger Merk deserves thanks and congratulations for this year's event and for honoring the memory of his friend John Sinkankas every year for the past eleven years with the eponymous Sinkankas Symposium, which so fittingly honors this legendary figure in the world of minerals and pays tribute to his enduring legacy.